17. September 2018
Cheesecake with the season's best berries

Cheesecake with the season's berries is one of my favorite desserts. It's the perfect dish for any late summer feast!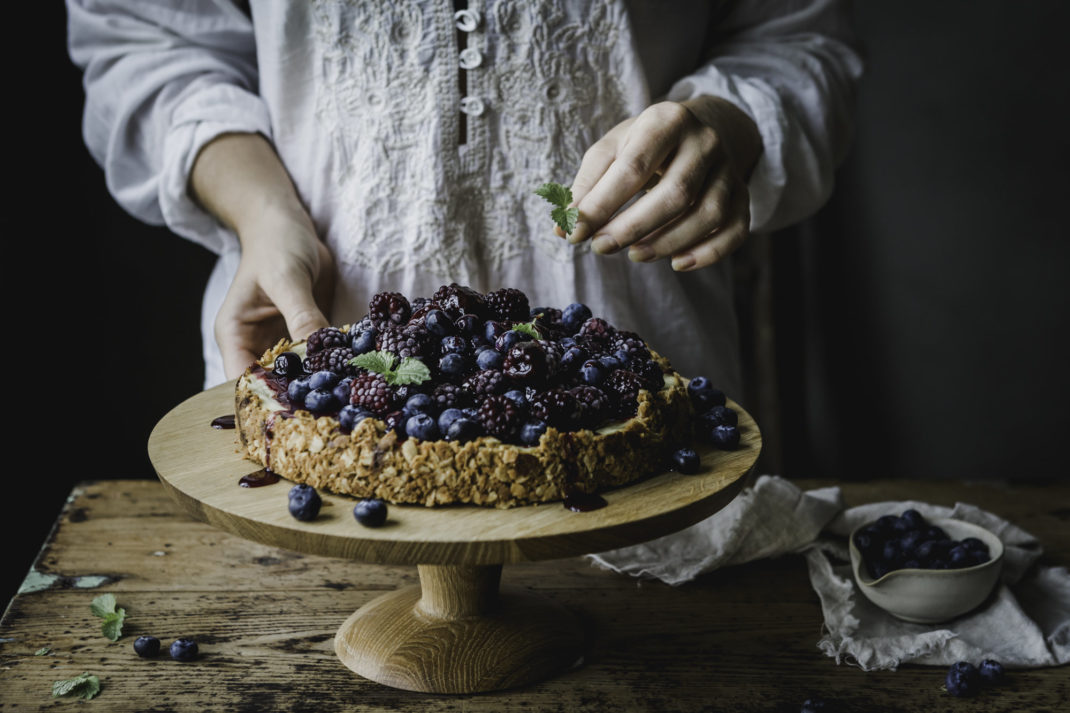 I just love this recipe! I've been baking this cake for almost 20 years now and I never get tired of it. My dinner guests really seem to love it too! Decorate the cake with honeyberries and strawberries early in the season, or use blueberries and blackberries in late summer.
Ingredients:
Pie crust:
a little bit more than 1/2 cups (around 125 grams) of butter.
8.8 ounces (2.5 deciliters) rolled oats.
3.5 ounces (100 grams) of digestive crackers or grahams crackers.
2 tablespoons sugar or brown sugar.
Filling:
1 1/2 cups (350 grams) of cream cheese
1/2 cups (around 100 grams) of ricotta cheese
3/4 cups (0.70 grams) of granulated sugar
1 cups of sour creme
2 eggs
1 tablespoon grated orange peels
1 tablespoon wheat flour
around 9 ounces of fresh berries
around 9 ounces of fresh berries for the sauce
Instructions:
Brush a circular cake pan with butter or oil. Put a baking sheet in the bottom.
Melt the butter in a pot and add the crumbled crackers, oats and sugar.
Put the batter in the pan, press the batter firmly against the bottom and the sides of the cake pan. Try to make the edges quite high.
Let the crust cool down in the refrigerator and turn the oven to 350 degrees Fahrenheit (175 degrees Celsius.)
Use a mixer and whip the ingredients for the filling until smooth.
Pour the mixture in the crust.
Bake the cake for 40-45 minutes and then let it cool down in the cake pan.
Cook berries for the sauce and press them through a fine sieve.
Decorate the cake with the berries and pour the sauce on top.
Put the cake in the fridge for a few hours to set.
Garnish with edible flowers and fresh berries.
The recipe comes from the Swedish cookbook Den stora vegetariska kokboken by Lottie Eriksson.
Photo by Maria Strömberg Bååth
Learn more:
Growing honeyberries (haskap berries)
Remontant strawberries: Harvest strawberries all summer
Planting blueberries