01. October 2018
Early sowing: My 6 best tips
The key to growing vegetables early in the season is to start preparations already in fall. It's easy to get going when you have a few pallet collar beds ready in winter. These are my best tips for early sowing.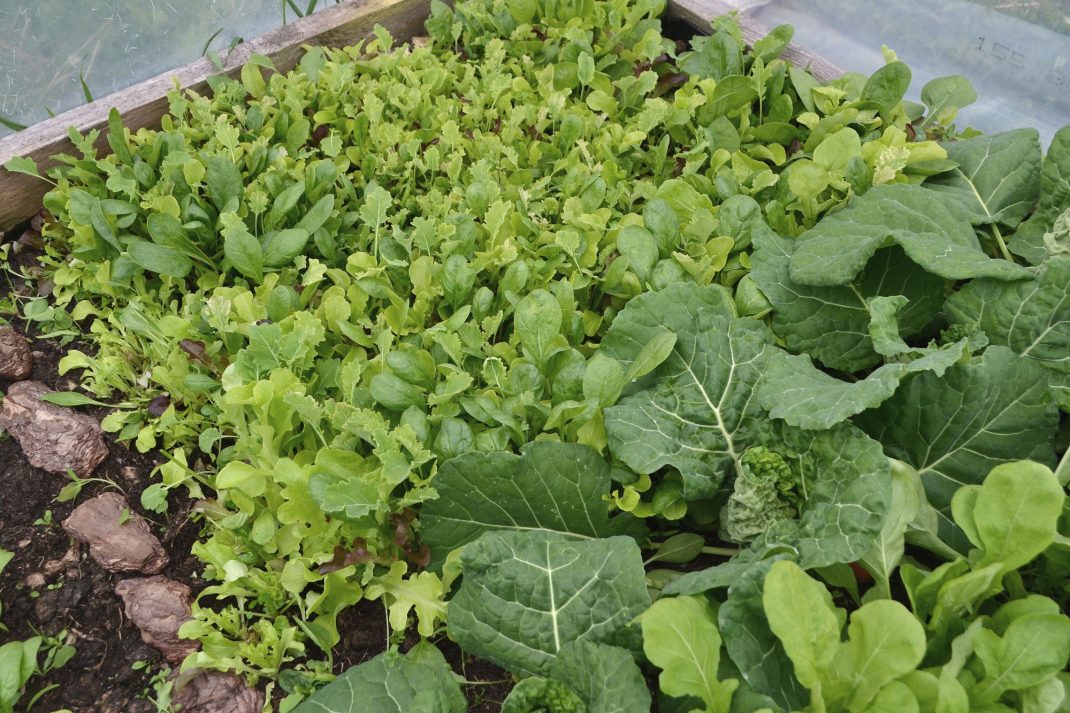 Starting early in the season will of course give you an early harvest too, compared to getting things going in March or later. I start sowing already in December-January, both in the beds outside and in my polytunnel. That way, I can start harvesting my vegetables already in late March and the  beginning or April. You can definitely start the harvesting season this early (even in northern countries like Sweden). All you need is some preparation for early sowing!
I live in a cold country and it might actually be too late to start preparations for early sowing in winter. The ground is already frozen at this point, and it might also be covered in snow. So, start the preparations for early sowing now in autumn instead.
I took the picture above in the beginning of April in my polytunnel. It shows a batch of leafy greens I sowed in February. The plants managed to survive the chilly temperatures and produced plenty of leaves for weeks.
These are my best tips for early sowing:
1. Think about how much you want to grow
You could definitely get a nice harvest early in the season too, especially if you decide to grow leafy greens.
Just growing one single small pallet collar bed is not worth it.
Go big! The workload won't be that much bigger and you will know for sure that you have enough of food early in the season.
2. Choose your location carefully
Find a sunny spot.
Preferably somewhere protected against the wind, maybe next to your house or a fence.
Make sure your spots are easily accessible, maybe close to your house or a path between beds.
Grow in several different spots.
Try growing in pots, your greenhouse and beds outside.
3. Protect your plants
You could for example use:
Pallet collars.
Homemade moveable frames.
Lids for your pallet collars and frames.
Row cover.
A greenhouse, polytunnel or mini polytunnel.
4. Fertilize
Dig down fertilizer, compost and plant parts.
Don't put anything on top of the soil, this will make it harder to sow.
Build a mound made up of compost, leaves and a layer of soil on top. Try doing it in pallet collar beds.
5. Prepare the soil
Remove all large particles that might freeze.
Remove weeds.
Even out the surface.
Collect soil that you can use to cover the seeds, if you sow them in frozen soil.
6. Buy seeds
Keep a selection of seeds at home so you can start whenever you want.
Buy seeds online, where you have more options to choose from.
Pick smaller and cold-resistant varieties early in the season.
Buy a lot of seeds! Broadcast seeding early in the season requires quite a lot of seeds.
Your garden has so much potential early in the season! This is something that most people don't really think about. But if I can do it up here in cold Sweden, so can you. I have to wait a bit longer to start harvesting of course, but it's definitely doable, and worth it!
Read more about getting your plants through the winter with wool mulch: Mulching with wool
If you are one of those gardeners who like doing things the traditional way, I hope this article has made you rethink the idea that the transition between winter and spring is impossible to work with. Take a chance, find a good spot and buy some seeds. I'm sure that you will be pleasantly surprised by the results.
My latest book about growing vegetables in winter just came out in bookstores here in Sweden. I'm hoping to get it translated to English in the future too. Until then, you can read more about early sowing and growing vegetables in winter here on my blog!
/Sara Bäckmo